Is it a quad copter or is it a land rover? It's both! Meet our 2-in-1 convertible helicopter car. Flaunting a set of wheels in addition to propellers, it can be driven on land or flown in the air. You will love to drive this JJRC H23 like a car and then fly it like a drone! The sky is no longer the limit, and you can rely on the land. Pilot the drone and get to wherever you want effortlessly by ignoring its orientation. Based on the SY X25, JJRC H23 RC flying car drone has the additional One Key Return function that allows you to recall it at any time. Have fun running on the ground and flying in the sky!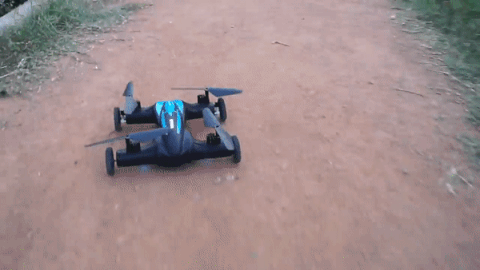 Fly in the sky
Switch to flight mode can fly in the sky makes turn 360 degree of the special effects in the air
Drive on the land
The ground mode, can run on the ground forward / backward, turn left / right, speed up operations
Cool in the air
You can easily control it to perform some really cool stunts in the air like 360-degree rolling
One-key return function
When it lands on the ground, it turns into a high-speed racing car. Equipped with one-key return function, it can automatically return to and land at the take-off location. Isn't it brilliant and cool
JJRC H23 is a fantastic RC quad copter with a unique function and attractive appearance. With 3D flip, headless mode and one-key return function it can fly as an outstanding quad copter, and with 4 wheels and built-in driving motors, it can also run fast on the ground as an RC car. If you want both: RC car and RC aircraft - this amazing JJRC H23 is your best choice.
Transmitter battery:
 4 x 1.5V AAA battery
Flying Time:
 6~10mins 
Charging Time : 
60mins
Product size
: (L x W x H) 23.00 x 23.00 x 7.00 cm / 9.06 x 9.06 x 2.76 inches
Package size
: (L x W x H) 38.00 x 10.00 x 29.00 cm / 14.96 x 3.94 x 11.42 inches